Welcome to the High Wycombe Group IAM
The High Wycombe Group of Advanced Motorists is a charitable organisation whose aim is to educate drivers to a safer standard of driving through the Advanced Driver Course. As group of volunteers, we are affiliated with IAM Roadsmart. We do so by mentoring Associate members, until they reach the required standard to pass the Advanced Driver test. The group covers a wide area from Watlington in the west to Pinner in the east, Stoke Mandeville to the north and Slough to the south. See About Us for more details.
Sad news
With deep regret we are saddened to announce that Paddy Hopkirk recently passed away in Stoke Mandeville Hospital after a short illness.
Paddy was 89, and a strong supporter of our High Wycombe Group of Advanced Motorists. He was a regular attendee at our AGMs and other functions.
Paddy had an extremely charming personality and could put people of all generations at ease. Here he is in 2019 at a Presentation Evening chatting to Emma Lipinski, who had recently gained a F1RST.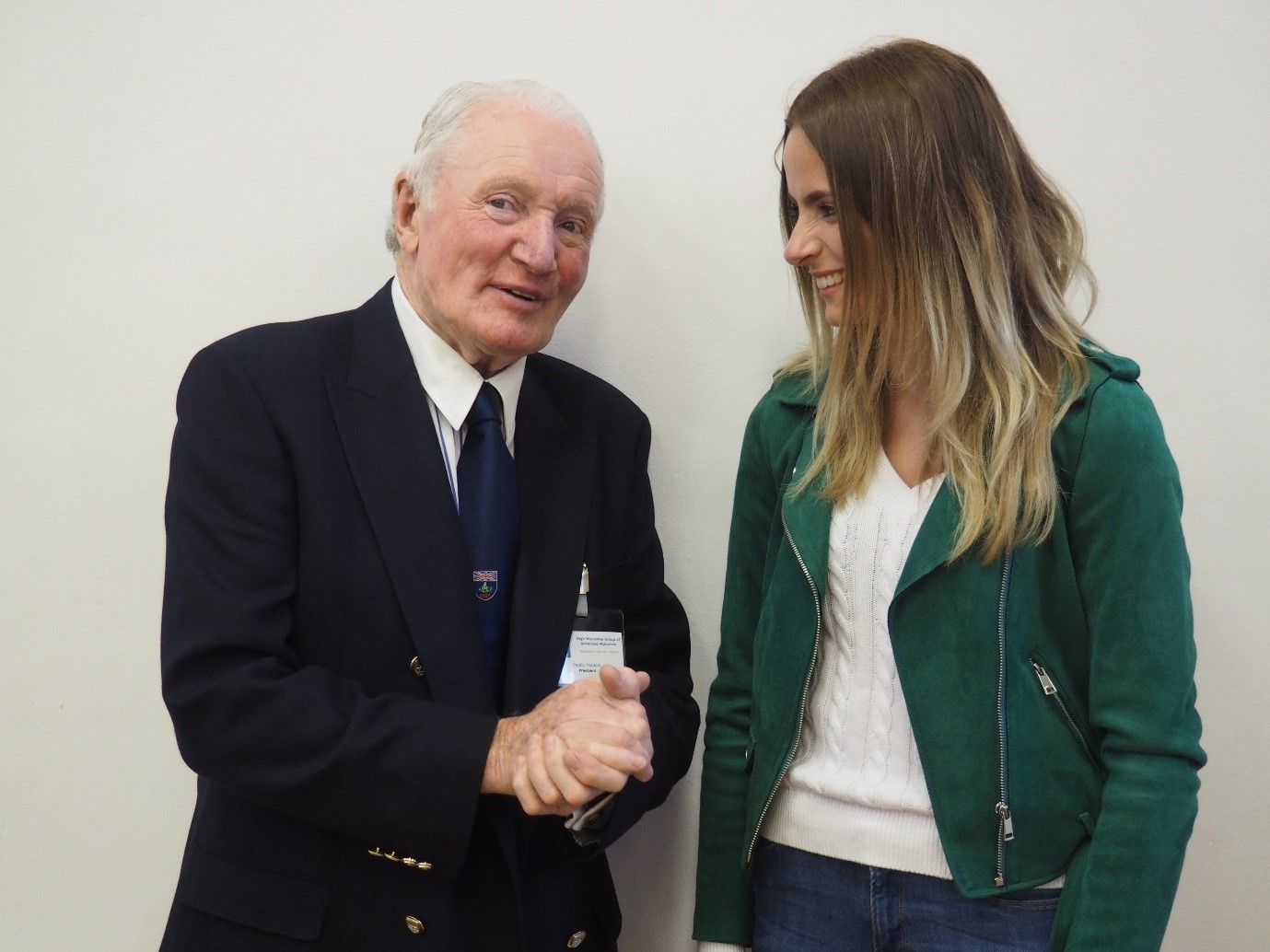 Paddy was extremely keen on road safety, and especially for young people to achieve Advanced Motoring passes. Here he is photographed (accompanied by our then Chair, Keith Chanter) in 2019 congratulating three F1RST Passes from our Group.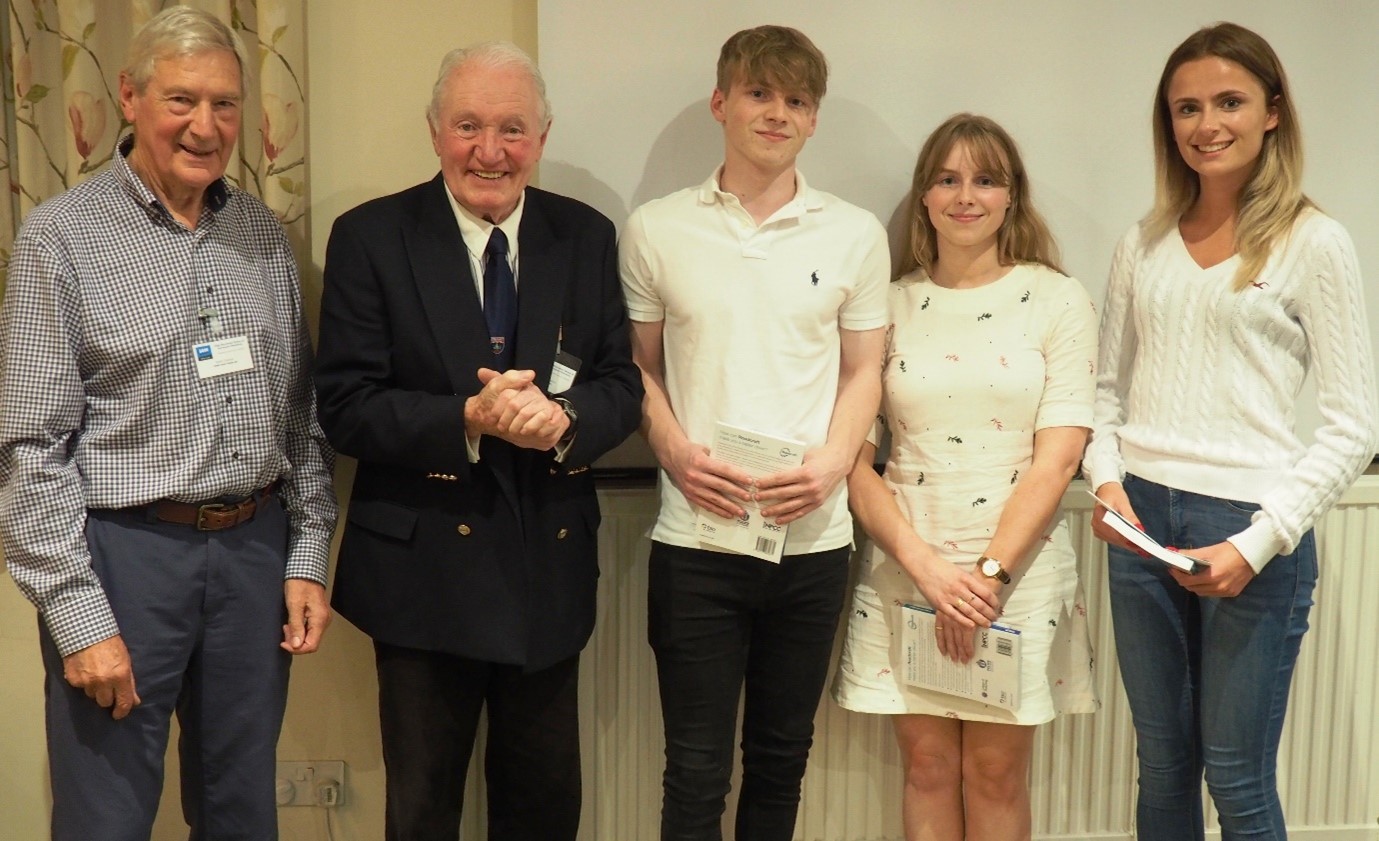 Free Taster Sessions
Are you interested to find out what Advanced Driving is all about, but not sure you want to commit to the full course right away?
If so, please see our Offers section about our Free Taster.
COVID-19 - Resumption of group activities - Update February 2022
Now that the COVID-19 restrictions have been lifted, the Group has resumed Observed drives and aims to resume social gatherings where possible, starting with our AGM on March 1st.
Please DO:
Continue to follow all current UK Government advice on Social distancing, self-isolation, travel, wellbeing.
Where possible - keep up the driving practise.
Read the Highway Code & Theory books to keep up your knowledge.
Stay Safe, Keep Distant, Stay Well.
Group Events 2022
Tuesday, 1st March 2022 - 38th Group AGM. The meeting will resume as face to face.
Date TBA - We plan to resume a Summer Event, similar to previous years. Details to follow!
Highway Code and Advanced Driving Videos
Please see the updates to the Highway Code which you should be aware of, which came into affect on 29th January 2022.
Why not test your Highway Code knowledge with this excellent series of Theory Tests, also available as a hand App for the iPhone or Android devices.
We recommend members and associates take a look at the series of Youtube videos by Reg Local called "How to pass an Advanced Driving Test", equally benefitial to Associates, Members and Observers!
News 2022
May 2022
March 2022
The group congratulates the following members on their recent passes.
Josh Godard (F1RST!), March 2022, Observer Tim Nichols.
Guy Stroud, February 2022, Observer Nigel Mason.
Amjid Zaman (F1RST!), February 2022, Observer Andrew True.
February 2022
The group announce the 38th Group AGM. and Summer events.
Passes since July 2021
The group would like to congratulate the following members on their passes, especially during the period of COVID-19 restrictions!
Greg Hall MBE, January 2022, Observer Ray Hall.
Isabella Darnton, December 2021, Observer Keith Chanter.
Dinesh Gurung, December 2021, Observer Sean Pearce.
Yugal Ale, October 2021, Observer Graham Smith.
Jonathan Smith, October 2021 (F1RST!), Observer Nigel Mason.
Isabella Bentham-Clark, September 2021, Observer Andrew True / Peter Gunn.
Liss Cole, August 2021 (F1RST!), Observer Graham Smith.
Jamie Gibbs, August 2021, Observer Roy Hall.